Raw Living Kraut
Nutrient-packed and full of flavour, Gaga's Raw Living Kraut is the tastiest way to get an extra dose of probiotic nutrients! Flavours include Dill Pickle, Ginger Beets, Turmeric Carrots & a straight-up Sauerkraut for the traditionalists.
Dill Pickle

The sweet warmth of dill combines with the crunch of pickled cucumbers in this American inspired kraut.

Ingredients: cabbage, cucumber, dill, sea salt.

Ginger Beets

This zesty ferment is packed to the brim with phytonutrients. It's bright and robust and has our signature crunch.

Ingredients: cabbage, beetroot, ginger, sea salt.

Sauerkraut

Enjoyed for centuries, the sweet notes of caraway seeds combine with wild acidity to produce this crisp, fresh ferment.

Ingredients: cabbage, caraway seeds, sea salt.

Turmeric Carrots

Turmeric's rounded earthy texture perfectly balances the sweetness of the carrots that bursts through this crispy kraut.

Ingredients: cabbage, carrot, ginger, turmeric, pepper, sea salt.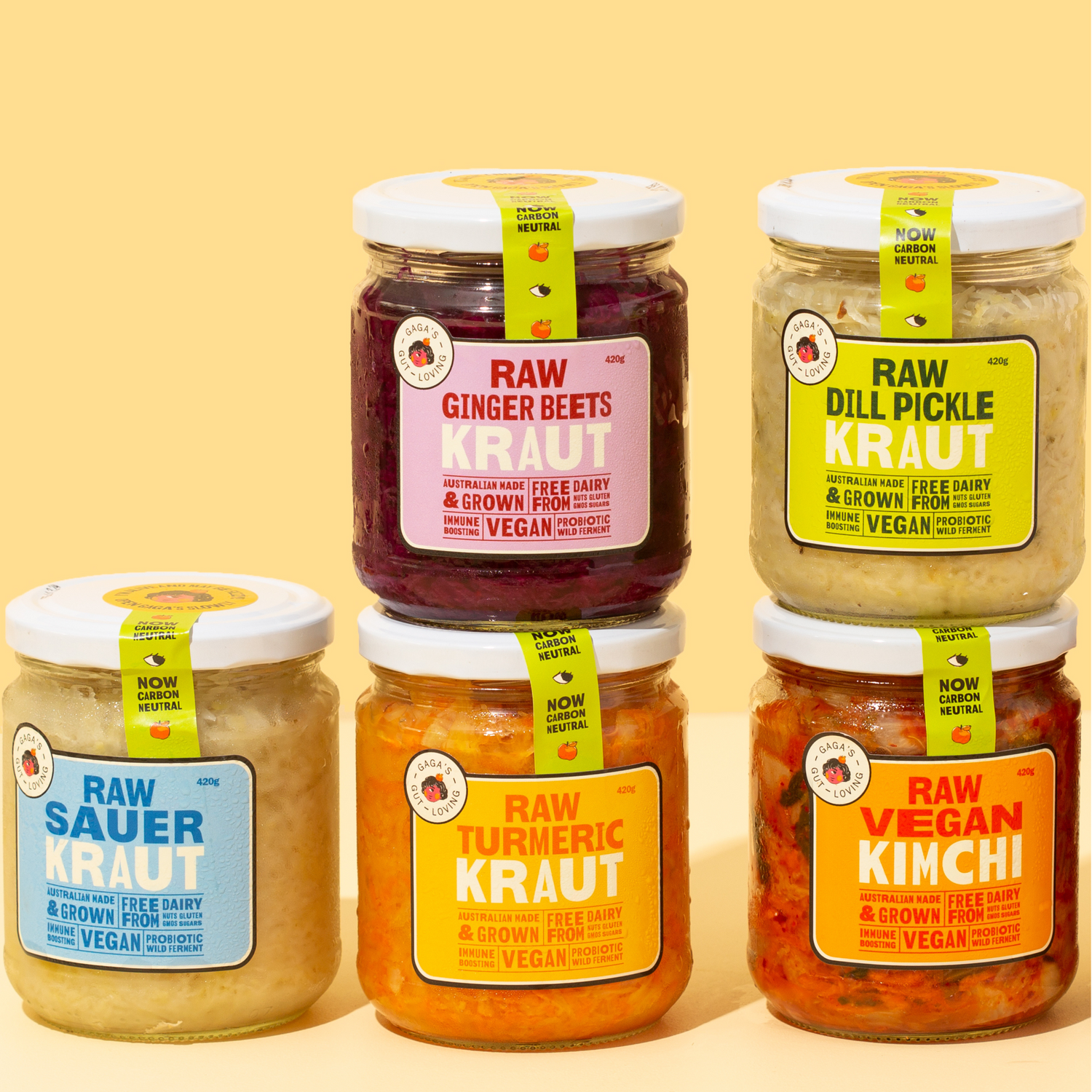 Top Ways to Savour Gaga's Living Kraut
Salad Topping: Add to your favourite salad for a crunchy, tangy element.
Coleslaw: Mix with shredded cabbage, carrots, apples, and a light dressing for a fermented twist on coleslaw.
Reuben Sandwich: A classic choice, pair with corned beef, Swiss cheese, and Thousand Island dressing on rye bread.
Hummus: Mix the brine into hummus for a unique flavour combination packed with probiotics.
Straight from the Jar: If you love fermented foods, you might enjoy eating it straight from the jar!